Wedding Show
Saturday, January 6, 2018
V.I.B. Elite Preview Event: 10:00am to 12:00pm
General Admission: 12:00pm to 4:00pm
Renaissance Tulsa Hotel
The Tulsa Wedding Show is the largest bridal fair in the region, featuring more than 100 exhibitors. On our show floor at the Renaissance Tulsa Hotel & Convention Center, you will find everything you need to craft a dream wedding. There are national department stores right next to local artisans, all ready to meet your needs, whether merchandise or services. What's more, we have your entire timeline covered, from engagement to wedding to honeymoon.
Fabulous Gifts & Door Prizes!
GRAND PRIZE from Abelina's Boutique! Register in the Madrid Ballroom for your chance to win a complete ceremony outfit (up to $5,000 value). Includes a wedding gown, veil, slip, and jewelry.
Each and every bride receives a tote bag and magazine from Brides of Oklahoma, a gift card for a Symbolize It custom print, and a white Bride silicone bracelet. In addition to the swag every single bride receives, The Tulsa Wedding Show exhibitors will be giving away prizes worth thousands of dollars throughout the day.* These prizes are provided by the Bridal Show's exhibitors.
Fashion Shows & Tablescapes!

All the latest bridal fashions from the best bridal shops and couture houses in the area will be on the runway in the Seville Ballroom. Check your program for the fashion show schedule. Visit the Madrid Ballroom to see what's trending in reception décor with fabulous, idea-filled tablescapes that will dazzle you!

New Feature: BrideScan
BrideScan is a new App that will allow you to quickly and easily request information directly from your favorite vendors at The Tulsa Wedding Show.
Simply download BrideScan from the App Store or Google Play, create your simple profile, then scan your favorite wedding pros at the show.
Purchase Tickets Online!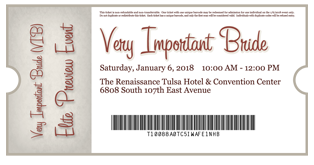 V.I.B. (Very Important Bride) Elite Preview Event Tickets are $30.00/person. The V.I.B. event begins at 10:00 am and runs until 12:00 pm. These tickets also entitle you to stay through the General Admission portion of the Show. A limited number of VIB tickets are available.
General Admission Tickets are $12.00 online and $15.00 at the door. The General Admission portion of the Show runs from 12:00 pm to 4:00 pm.
You may purchase tickets online before the January Bridal Show. Doing so will save you $3 off the at-the-door price.
Trolley shuttle service available from the Target parking lot by Old Urban Trolley.