Ticket Sales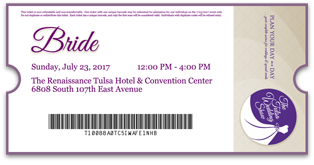 Online ticket sales for the July Wedding Show have closed. The show will return in January, so be sure to check back December 1.
Purchasing your tickets to The Tulsa Wedding Show online does several great things for you:
YOU WILL BE AUTOMATICALLY PRE-REGISTERED.
You will get a $3 discount off the price of tickets at the door.
You and your guests will skip the hassle of registering and paying in line.
Free gifts for Brides!
Each attending bride will receive:
Brides of Oklahoma Magazine
V.I.B. (Very Important Bride) silicone bracelet
Brides of Oklahoma Tote Bag
Symbolize It Gift Certificate
Each bride will also receive one chance to win one of the show's great prizes, including the GRAND PRIZE: a ceremony outfit from Abelina's worth up to $5,000!
Cost: $12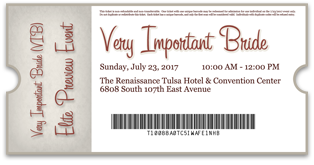 Tickets to the July Very Important Bride (VIB) Elite Preview Event have sold out.
The VIB Elite Preview Event includes all of the benefits of The Tulsa Wedding Show, PLUS:
Early entrance into the Bridal Show!
Pearl earrings in an ivory organza bag
V.I.B. (Very Important Bride) silicone bracelet
Luxe Tote Bag from Brides of Oklahoma magazine
V.I.B.-only fashion show
"Bridal V.I.P." silicone bracelet for non-bride V.I.B ticket holders
A hand massage by students of CC's Cosmetology College.
A limited number of VIB tickets are available. If we sell out online we will not sell tickets at the door.
Each member of the bridal party that wishes to attend the VIB Event will need to purchase a VIB ticket.
Cost: $30
Make sure you purchase your tickets by Saturday, July 22, 2017! Online ticket sales will close at Midnight on Saturday. You may still purchase tickets at the door on Sunday, but you can save $$$ by buying now!